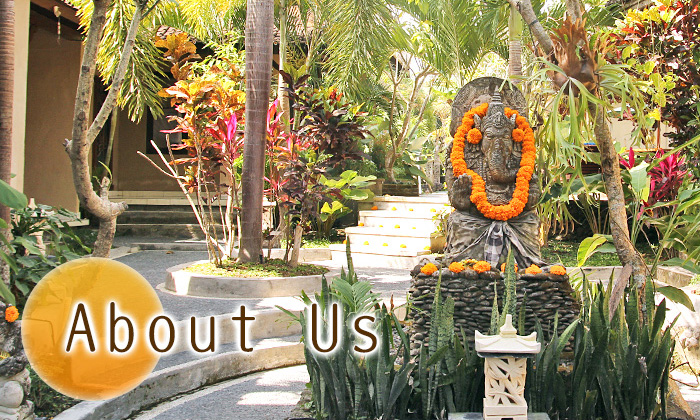 We would like to thank you for visiting our website.
Local Pala Villa is located in Nyuh Kuning village on the south side of Ubud and the back side of Monkey Forest. Despite Nyuh Kuning village being close to central Ubud, it is a quiet and relaxing resort area where it still retains it nature atmosphere. It was selected in the most beautiful town in Indonesia, it is neat and beautiful such a place that many Frangipani (Plumeria) blooming beautifully.

Local Pala Villa is situated about a ten minutes walk from the Monkey forest.The monkeys are very pleasant and cute, it will be like staying in Bali reminiscent on the good old days.

The villa's compounds has 12 different types of rooms in all and the rooms are spacious, clean, airy and comfortable.We hope you have a relaxing and cozy stay at Local Pala Villa.

The Villa is owned and run by a couple of Indonesian and Japanese heritage. Each room is prepared to create a bit of "Japanese Zen" atmosphere. We offer you a pleasant stay in a peaceful and relaxing environment. Our friendly staff look forward to seeing you at our Villa.
How to Book
(1)Please choose your favorite room from the "Rooms" page.
↓
(2)Next click the booking button.


↓
(3)After you filled in the form, click send button.
↓
(4)Once we receive your reservation, we will check the room availability.
※At this point, the reservation is not yet completed.
↓
(5)You should receive a"booking confirmation"message from us. Do please check the booking details carefully.
※If the room you selected is already booked, We will inform you and let you room what other rooms are available.
↓
(6)Please confirm your booking confirmation. If there is no mistake, please reply to the booking approval.
Payment methods
Full payment will be made directly at the reception at check-in time (Full payment is required upon your arrival.)
We are required to conduct all transactions in Indonesia Rupiah (IDR). If you do not have Indonesian Rupiah, please advise staff at reception.

Payment with credit card is also possible.
※Fees are subject to change and surcharges may apply.

We accept Visa, Master, JCB and DINERS:




Cancellation policy
A cancellation fee may apply as follows

●Up to 4 days prior to arrival: No cancellation fee.

●Up to 3 days prior to arrival & No Shows: 1 night cancellaion fee.
Free inclusions services
●Daily breakfast (American, Continental or Indonesien style)
Does not include high season

●Mineral water daily in the room

●Daily housekeeping

●Free transportation to central Ubud
※Maximum of 2 passengers only, since free transport is by motorcycle.
Paid services available
●Laundry

●Transport service to central Ubud (Rp60,000~Rp80,000)
※More than 3 person will be transported by car.

●Airport transfers (Rp400,000/single MidnightRp450,000/single)

●Tour bookings
Check in・Check out
check in 14:00
check out 12:00

Early check-in is free of charge if the room is available.

Late check-out ( before18:00 ) will incur an additional charge of 50% of the nightly rate. After 18:00, the full nightly rate applies.
Internet service
Free Wi-Fi available in all rooms.